Experienced Pediatric Dentist in the Farmington Area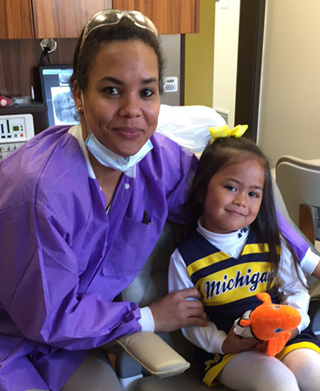 Southfield Kid's Dentist is a dental center specializing in pediatric dentistry for kids in the Farmington area, as well as specialized services for children with special needs. We serve children of all ages, from their first tooth to 18 years, and we're dedicated to giving your child the best dental care in a fun, kid-friendly and comfortable atmosphere.
When it comes to children's teeth cleaning and children's cavity treatment, Dr. Ife Nwabueze, DMD and the team at Southfield Kid's Dentist have earned their reputation as Michigan's top pediatric dentist.
Our team is made up of highly skilled and experienced pediatric dentists, hygienists, and dental assistants. Our incredibly patient staff is dedicated to helping children understand how important good oral hygiene is, and we will work with you to help your child develop a healthy lifestyle that encourages a lifetime of healthy teeth and gums. Together, we can help your child understand the importance of taking care of his or her teeth.
Your Child's First Dental Visit
If you are the parent of an infant or toddler, the American Dental Association and the American Academy of Pediatric Dentistry recommend that the first dental visit is scheduled shortly after your child reaches 6 months of age, or when the first tooth appears. The first dental visit can be a bit anxiety-inducing for both children and parents, but no worries -- our staff is fully equipped and trained to keep your child happy and calm.
Your child's first visit introduces your child to our caring staff and will help you to understand what you can do as a parent to instill proper oral health habits. The doctor checks for signs of proper development and then counts the teeth. Your child is evaluated and further treatment is planned if necessary. No matter what type of treatment your child needs, we are confident in our services and will make sure that your children have nothing but the best care and attention.
We provide specialized guidance for anxious kids and children with special needs.
Dr. Ife is especially fond of children and has many years of experience working with kids of all ages and needs. We the experience and setting to help your child feel safe and at ease in the dentist's chair. Even if your child has special needs, is scared or is unwilling to sit still for a treatment, you can rest assured that our staff will be patient and understanding, to help make it a better experience for your little one, and you too!
Gentle Pediatric Dentistry in Farmington, MI
If your child is in need of a regular dental checkup or is having tooth pain and oral discomfort, the pediatric dental specialists at Southfield Kid's Dentist are here to help. Our pediatric dentist specializes in providing safe and gentle dental care specifically for infants, toddlers, children and teens.
Your child's safety and comfort are the first priority for everyone at Southfield Kid's Dentist. We maintain state-of-the-art technology to deliver our treatments and to ensure your child's continued oral health. We designed our entire facility especially for kids with bright colors, age-appropriate entertainment, and dental instruments specially sized for their smaller mouths.
Southeast Michigan's Best Pediatric Dentistry Services
verified_user Preventative Dentistry
Regular checkups are the best way to ensure your child is practicing good oral hygiene and maintains a healthy smile. We'll inspect your child's teeth for problem areas, talk about tooth brushing, and give his or her teeth a thorough cleaning.
replay Restorative Dentistry
We provide a gentle approach to repairing chips and cracks as well as filling cavities. We understand the anxiety both parents and children may have when it comes to restorative treatments, so we go slow and have lots of patience.
snooze Sedation Dentistry
If your child is afraid of the dentist or has special needs, treatments with sedation techniques may be the best solution. We will happily talk about your options before your appointment so you know exactly what to expect.
face Infant Examinations
As soon as your child's first tooth appears you should come to see us. We will inspect the new formation and talk to you about caring for baby teeth.
Common services Southfield Kid's Dentist provides:
Cleanings & Fluoride Application
Digital Radiographs (X-Rays)
Treatment of Disease/Injury
Sealants
Composite (Tooth-Colored) Fillings
Amalgam (Silver) Fillings
Crowns (Caps)
Extractions
Space Maintainers
Habit Appliance Therapy
Nitrous Oxide
Sedation Dentistry
Hospital Dentistry
Pulpal Therapy for Primary and Immature Teeth
Hear from our patients' parents!
"Doctor Ife is a very nice doctor that took her time with all three of my kids. All the staff members are really nice and friendly. My girls can't wait to come back for their next cleaning." Stephanie A.
"We have always had a great experience. The gentle approach with my daughter is exactly what she needs regarding being afraid. We will always come back for the great experiences. Thank you!" Smith Family (Zoe)
---
Southfield Kid's Dentist serves children of all ages, from their first tooth to 18 yrs. Schedule an appointment for your child today!